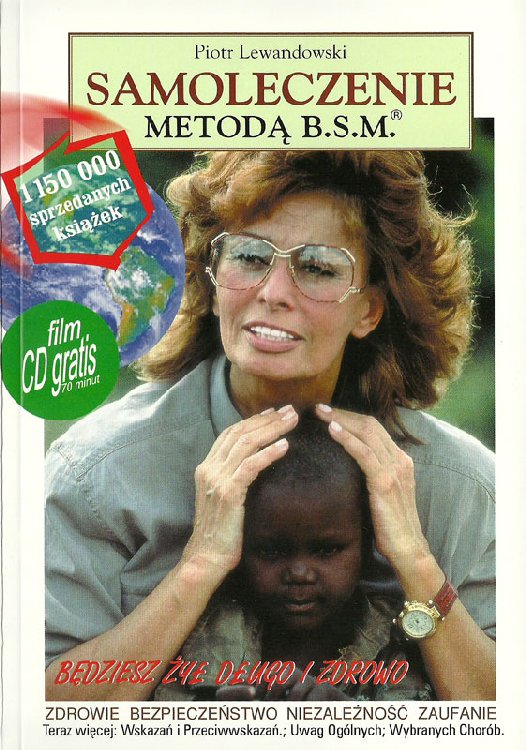 BSM SELF-HEALING METHOD ®
1993 – 2018 – GUS statistics show an improvement in the health of Poles.
1993 – 2018 – The book "The BSM Self-Healing Method," published since 1993, has reached sales of over 1,150,000.
The initials BSM are the name and the abbreviation of the full name, which in Polish means "Bio-emanative Linking with the Brain."*
YOU WILL NOT BE CONVINCED UNTIL YOU TRY IT FOR YOURSELF OR WATCH THE 70-MINUTE DVD PRESENTATION!
*Bio-emanation means the radiation emitted by living organisms.
HOW DOES THE BSMMETHOD WORK?
Treatment is performed by placing one's hand (or another part of the body) on one's head, over the proper centers of the cerebral cortex that control the afflicted part of the body. The radiation emitted by the living cells of the palm stimulate the centers to begin the process of self-healing.
The BSM method can be used by anyone. You do not have to believe or possess special qualities. You need simply to know where and how to place your hand on your head. It is described in the book and shown on the video presentation.
BSM SELF-HEALING METHOD EFFECTS
BSM relies on equalizing the electromagnetic field that begins to weaken on organs that are ill. The field is charged with energy which the body is constantly radiating outward. Since BSM acts on the brain, i.e. the central nervous system, which is the body's battery and antenna, the amount of radiated energy emitted by everyone is sufficient to equalize the electromagnetic field. However, it is not sufficient to effect the peripheral nervous system, used in other methods of healing.
That is why everyone can use the B.M.S. Method.
Remember, the B.M.S. Method saves health and lives! You must try it for yourself!
INTERNET USERS, DO YOU KNOW THAT:
You can heal yourself from ever serious illnesses without the need for medicines, money, or the help of healers. A method was discovered in Poland and I have been spreading it for 25 years. All that is required it to cover a spot of the central nervous system with your hand to trigger the healing reaction. The location of the specific centers can be found in medical textbooks or in the book I have written.
Official medical sources try to hide this method or ruthlessly pass it over, but no one should be opposed to its spread as it concerns saving health and lives. Often we do not see how dependent science is on an industry designed to produce profits rather than helping people. Doctors do not see any profit for themselves in self-healing, only a threat to their competence and authority. Remember, our lives belong only to us, and no one cannot decide about or use them for their own gain.
THE BSMMETHOD BRING BENEFITS TO US ALL
It brings profits to the governments of countries. Medical corporations should strive higher and, as Hippocrates said, start recognizing the powers of nature extending human life. Great medical concerns should change the profile of their production, while medical schools must teach doctors new methods and collaboration in order to discover best how they work under clinical conditions.
Od dziesięciu lat cierpiałam na bezsenność. Całe noce nie mogłam spać i leki niewiele pomagały, chodziłam po domu jak odurzona. Wcześniej przestałam pracować. Być może zmiana rytmu dnia było powodem tej bezsenności. W domu od lat leżała u mnie książka pt: Samoleczenie metodą B.S.M. autorstwa Piotra Lewandowskiego ale z niej nie korzystałam chociaż namawiała mnie sąsiadka abym stosowała to samoleczenie bo jej metoda pomoga.
Mirosława Baszkiewicz i Alicja Zdunikowska
I am please and satisfied to say that thanks to the BSM method I cured my 15-month-old child of bronchitis in less than three days. Friday was the beginning, a simple infection and runny nose, but by Sunday night his condition had worsened and he wasn't sleeping well, his breathing was rapid, he was wheezing and coughing. On Monday afternoon we took him to the doctor and the diagnosis was bronchitis (bronchiolitis) caused by the RSV virus.
Aneta Mika from Hamburg